Ocean's Edge Ministries
---
We have been so blessed as we watch God moving on The Edge Ministry Base in Jaco Beach Costa Rica. We invite you to come along with us on this incredible venture in faith!
The Edge Ministry Base | Jaco, Costa Rica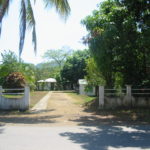 The Edge Missions Base is located in the heart of Jaco Beach, Costa Rica and is managed by Ocean's Edge Ministries. The Edge is held in a Costa Rican corporation with an overseeing legal board. The board is committed to supporting and facilitating local ministries and cross-cultural missions. They exist to assure the property is solely dedicated to non-profit missions work, bible-based training and programs that will have a positive impact on the world, through Jesus Christ.
In order for you to truly begin to imagine the blessing, victory and miracle of The Edge Ministry Base, we need to take you back to 2003. Hannah Fletcher, Founder of Ocean's Edge explains: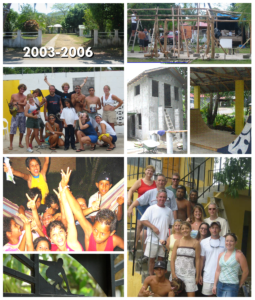 "There was a group of faith-filled believers that dared to look past the reputation of Jaco Beach and hear God's heart. We knew that we not only wanted to redeem the town known as the "Sodom & Gomorra" of Costa Rica, but He wanted to be glorified in it. We all gathered our pennies together for a deposit on a future ministry base right in the heart of the town. The day I moved onto the property, April 12, 2003, I remember sitting on the porch with my dog on my side just looking out to the empty lot. I imagined all the possibilities and dreamed of having a discipleship training school. Missions team from Christian Surfers and Churches across the States came to help us shine in the town. Together we were laying a foundation, claiming territory and battling side by side, yet it was God who was the obvious hero."
The purchase contract for The Edge was signed for $89,000 USD. It included 866.21 sq. m. (9,323.81 sq. ft.) of land, two small tear-down homes and a ridiculous amount of potential. The seller receiving a small deposit of only $10,000 USD and they financed the remaining amount.
Years passed with both hardships and blessings, lives were changed and the property peacefully passed from one ministry to another to carry the torch. Many ministries, missions groups and individuals have called the Edge home and utilized the facilities. In 2007, the original vision started budding new life in the name of Ocean's Edge.
Committed to a Ministry Lifestyle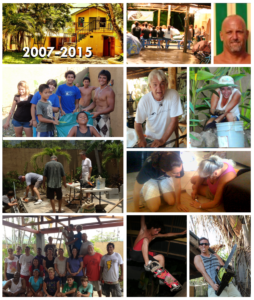 Jesus came so that we may overflow with abundant life and shine in a way that romances others to a loving relationship with their Creator. This is our mission! And it is a lifestyle, not a special calling, a position in a church or a title on a ministry website. God uniquely created each of us to shine. The way He uniquely designed us is our personal treasure map leading us to our destiny. Our heart is to help mobilize others to this life to the full.
The past few years have been full of movement and overflow. The time for talking and dreaming quickly accelerated into a sprint. It was time to dive into the pioneering phase again and WOW! Every step we took forward, God was there, as if to cheer us on as we responded in faith to His call! Over and over again, He took our baby steps and made them victorious.
We have been blessed beyond explanation by God's love, grace and peace. Ocean's Edge and the Christian Body is making a unified, noticeable and positive impact on our community and beyond. The base is currently facilitating the Ocean's Edge Ministries including the Divine Destiny program and camps, Business and Art School, Internship Program and more.
The Edge Ministry Base | Long-term Vision
Our long-term vision is to maintain a self-supported, fully-equipped center available to host missions teams, interns and ministries. The master plan includes:

a.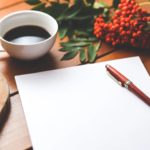 Two commercial units with street frontage: This retail space will be used to open and run model businesses for the business school and for outreach programs in the town of Jaco Beach. They will be a training ground for our business school participants at the same time as it generates funds to support ministry.

This is the last phase of our building project. The housing center and retail space will allow the Edge Missions Base to be self-sustaining. In the case that a profit is generated, all funds will be designated to support approved non-profit missions work and programs (e.g., sending and supporting international missionaries, business school programs, micro business start-up, etc.).

b. Large conference-style multiple purpose meeting room and art garden: Currently, we have an outdoor meeting space we like to call "The Rancho". This area will double in size.

c.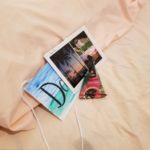 A Bed and Breakfast-style housing area: Phase one and two has almost been completed which expanded the on-site housing. Currently, the property hosts mission teams, Ocean's Edge interns and ministry-minded locals. The existing structure can host up to 25 people in a variety of bunk rooms and studio apartments. In 2017, the new roof covering the housing area was also completed and completely paid off! This new covering unifies the living area on the base and brings all the housing together. It also solved a flooding issue that was created when the neighbor built a wall around his property.

The master plan of the housing area will open into a large sitting area with a welcoming community kitchen surrounded by a U-shaped building, which will include nine studio lock-off apartments, six bunk rooms and three hotel style rooms for couples or individuals. This will increase the maximum capacity to 55 people. This will allow us to host both teams and interns at the same time without having to use expensive hotels as overflow.

The bed and breakfast will also be a training ground for students to learn a variety of skills, such as customer service, small business skills and cooking. The income generated from the school and housing will be returned to the ministry to help support missions.
---